Hi there forum users and Landy owners!
First off apologies if this comes across as a purely promotional marketing topic, this isn't my intention, I just wanted to let all you Land Rover enthusiasts know about this great new bit of merch! (I've met a lot of you at the LR shows in Billing & Peterborough 2011 and I look forward to doing so this year and playing with the new handset!)
Some of you might be aware of the first mobile phone by a brand called Sonim that was branded as a Land Rover official mobile handset, the Land Rover S1. This was released back in 2008.
Well now new for 2013 Sonim are doing it again and this January see's the launch of the new Land Rover S2 mobile phone.
We are the UK exclusive distributors of the official handset and we can provide the phone sim free to take your existing contract or pay as you go sim card or if you'd like to get the cost of the phone subsidised we can supply it on contract upgrades and new connections.
Anyway that aside here's a bit about the specifications of the handset.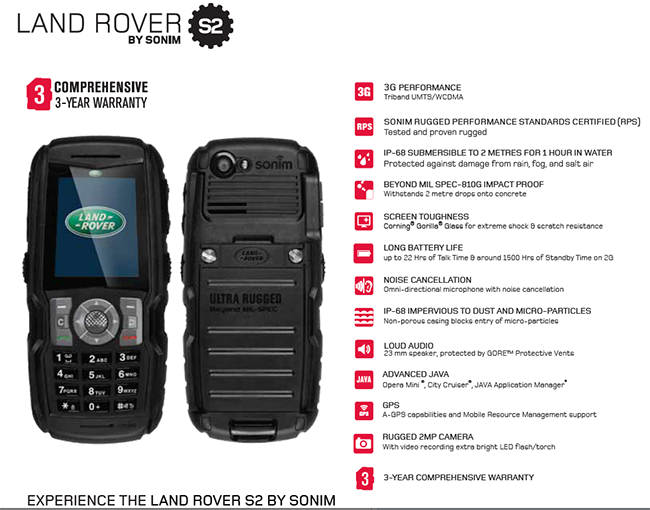 Anyway that's the spec of the handset and sales pitch aside we can honestly vouch for how well made and tough the handset feels in hand, and it's not too much of a brick either.
Here's a few links for your consideration:
Unboxing Video:
Link to purchase:
http://www.thephonet...d-rover-s2.html
Price: £299 + vat. With 3 year comprehensive warranty.
For more information call
0800 849 9990
Note to forum admins: Please get in touch with us on sales@thephonetrader.co.uk.
Effosmefitoew and IsorDIrolotor like this